User Interface¶
This section will describe the Black Ink user interface in the most exhaustive manner possible. We aimed to make it as responsive and visually appealing as possible. To achieve this, we developed our own anti-aliased 2D rendering engine, the same one used for brush rendering.
Anyway, here's how Black Ink appears by default upon the first launch: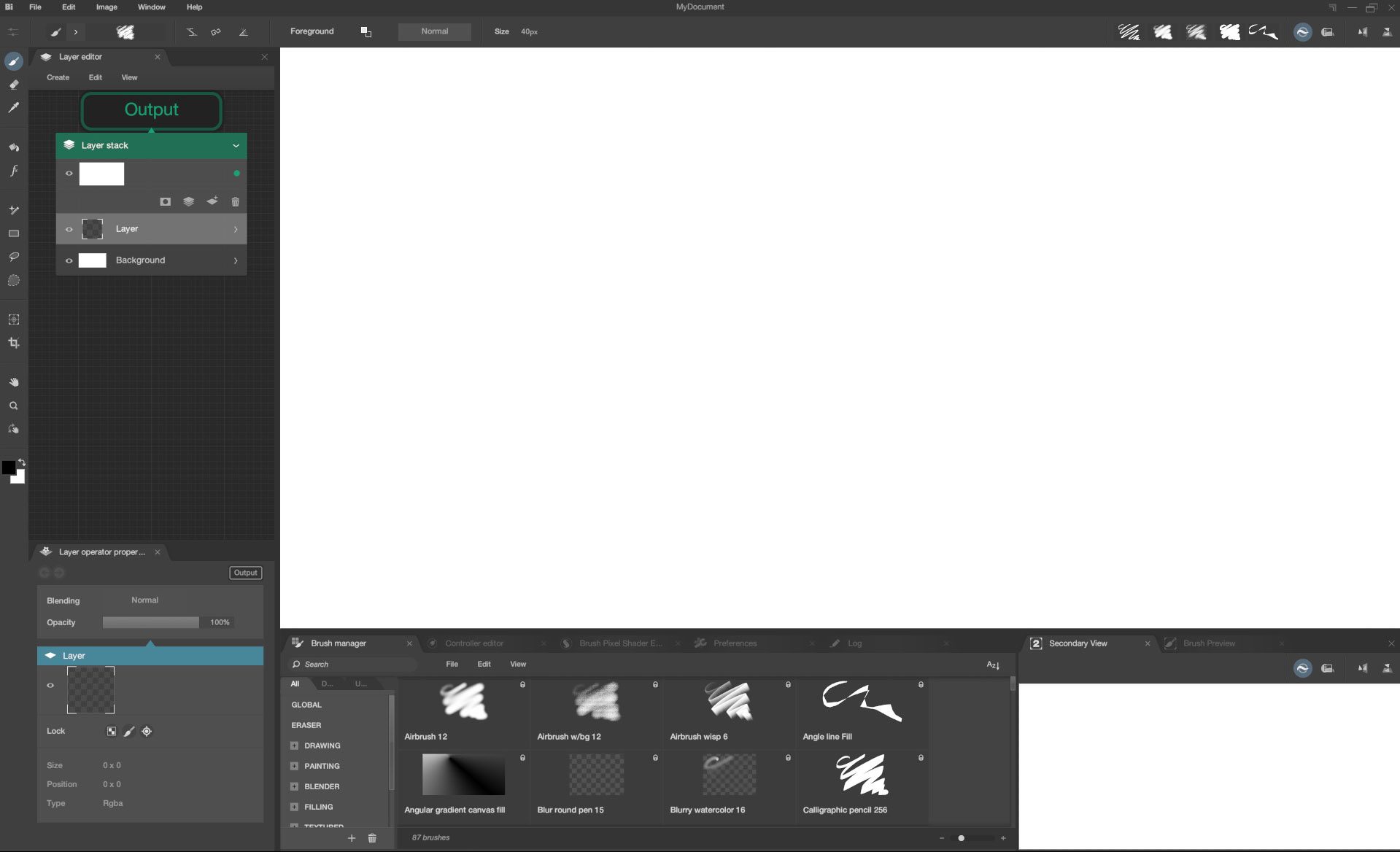 Here are the different parts of the interface:
Menu Bar¶

Menu Bar. This is the top section of the main Black Ink window.
---
Main Canvas View¶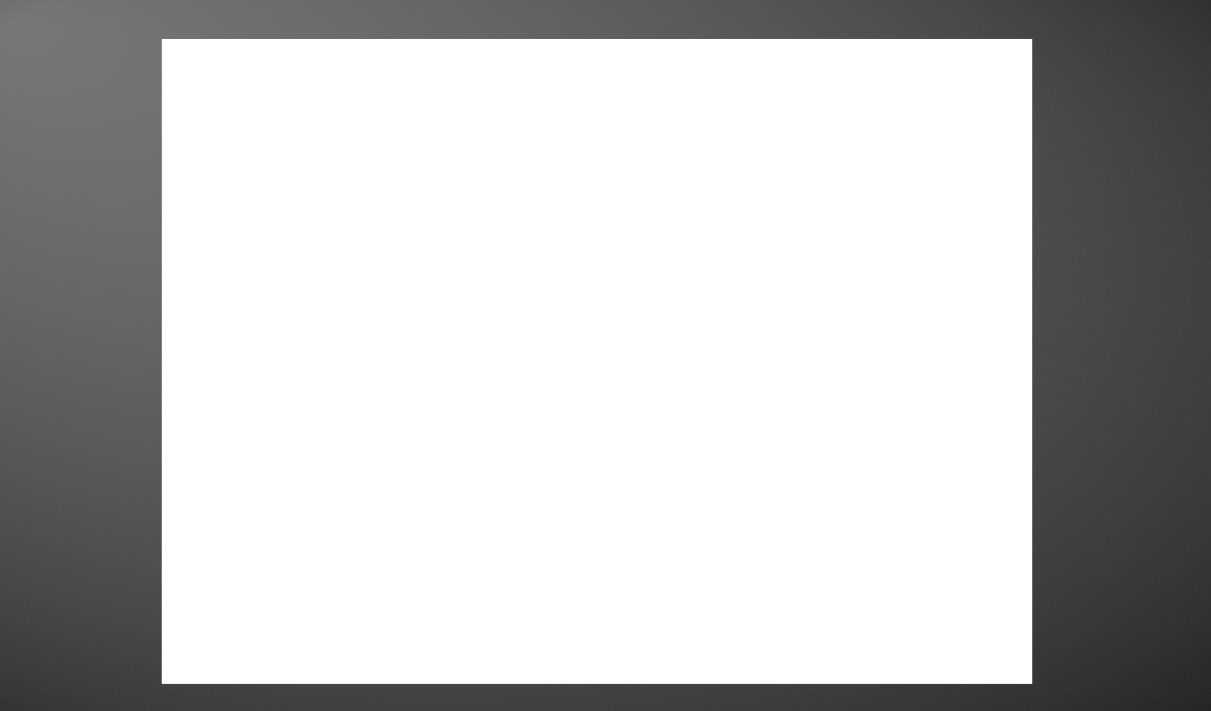 Main Canvas View. It's the main editing area of Black Ink where the currently edited document is displayed.
---
Main View Options¶

Main View Options. In this section, we can directly see if certain options are enabled for the current view.
---
Main Toolbar¶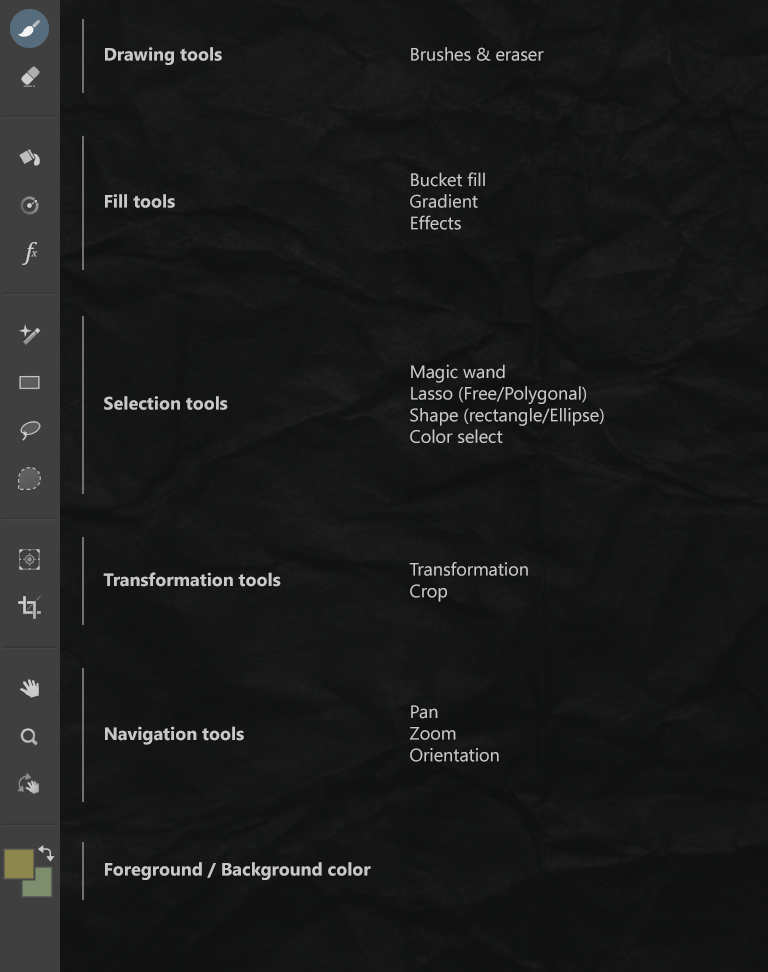 Main Toolbar. This area displays the currently selected tool in Black Ink
---
Quick Settings¶

The currently selected tool will use this part of the interface to display simplified settings for quick access. See each Tools for more information on the contents of these settings.
---
Favorite Brushes¶
In this section, we can view the currently accessible top 5 favorite brushes.
When you click on one of these icons, it selects the Brush Tool with the clicked brush as the active one.
These brushes can be defined by going to the Brush Manager and dragging and dropping the brushes into the Favorite slots.
Additionally, by using the numeric keypad keys (Num 1, Num 2, ... Num 5), you can directly select the brush defined in the slot.
If you have added multiple brushes to a specific slot, simply right-click to cycle through the active brushes in the slot.
---
Panels¶
Panels. The panels in Black Ink will contain the parameters for certain Black Ink tools.
---
Furthermore, certain other elements may appear in Black Ink:
Dialogs¶
Dialogs. List all the dialogs in Black Ink in the most complete manner possible.